Science does not eliminate intuition. Professional principles of Valentyna Bolokhovska
Valentyna Bolokhovska, co-founder of the BTU-CENER Company

On October 21, the BTU-CENTER Company (Ukrainian manufacturer of microbial and enzyme preparations) launched its fourth production line at the plant in Ladyzhyn, Vinnytsia region. Thus, the capacity of the enterprise has grown and now amounts to more than 10 thousand tons of products per hour. The launch coincided with the milestone birthday of one of the company's managers - director of perspective and development, and mastermind of the company - Valentyna Bolokhovska. Chemical engineer by education, winner of the State prize of Ukraine in science and technology, she is also known for her paintings and poems. Latifundist.com collected different opinion on the work and life of one of the founders of BTU-CENTER.
It's just a job
"In 1999, when we started an establishment of the enterprise, we didn't think about huge business. We were just determined to survive and to feed our families. It was our passion to revive the company we worked for, find an investor...

ТIt was hard to call it a normal business back then. We just fulfilled our duties and had to keep in mind that winter was ahead and we needed to hold on".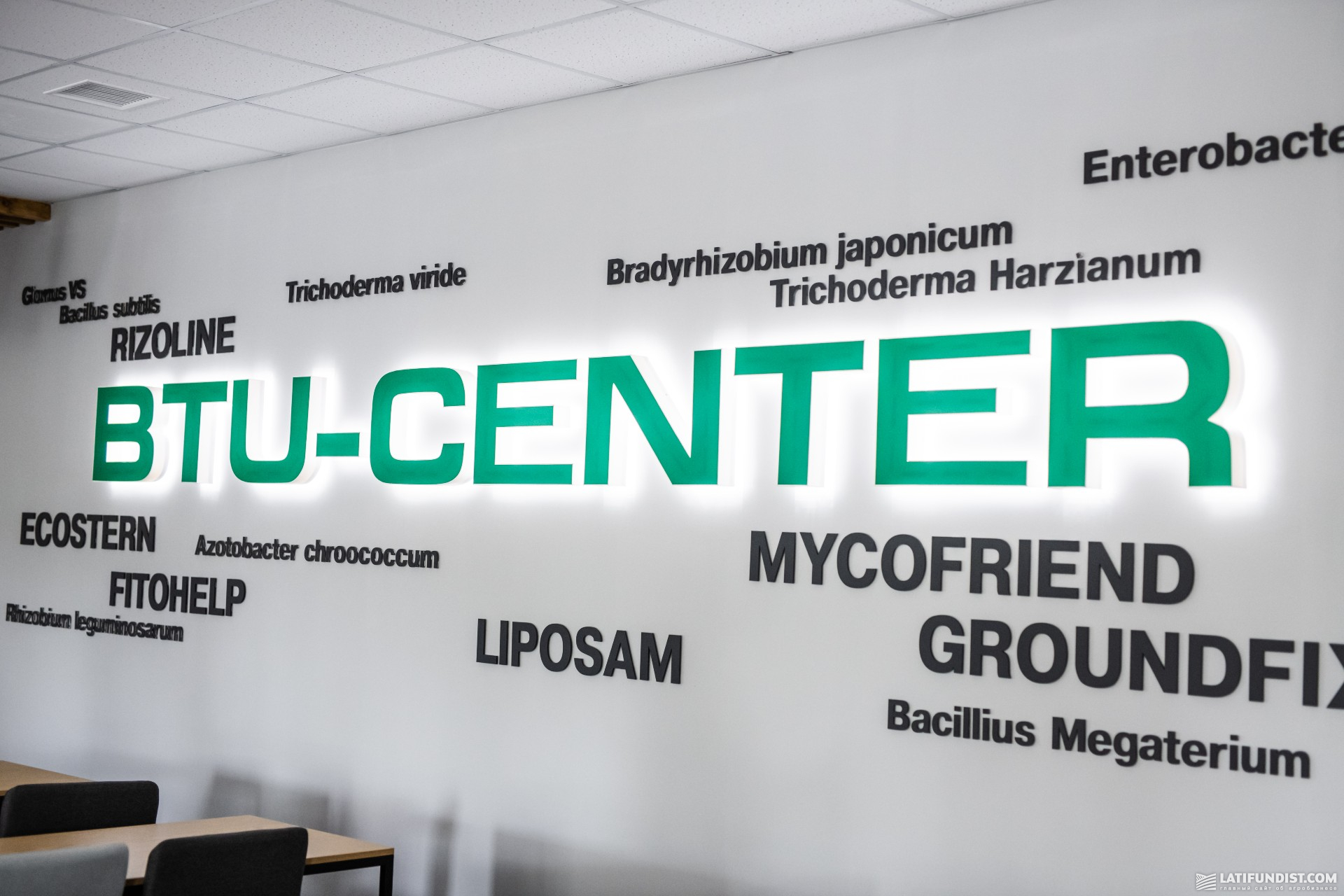 There is a bigger room for creativity in the family business
"Perhaps global trends tell us that large international companies tend to absorb small businesses. But these companies are not so flexible, as they involve many business processes that are bureaucratized. To develop a new product, they need more time and confirmations, in comparison to us. Such system doesn't create a space for creativity.

Sometimes, in some direction, there is no profit for several years. But you trust your intuition and wait patiently. And then-wow, we start to get our first earnings! How anyone could imagine large companies operating without profit? Such experiments are possible only in the family businesses..

Our business is among them. I hope that our children and grandchildren will continue our path and choose the form of partnership that will be optimal".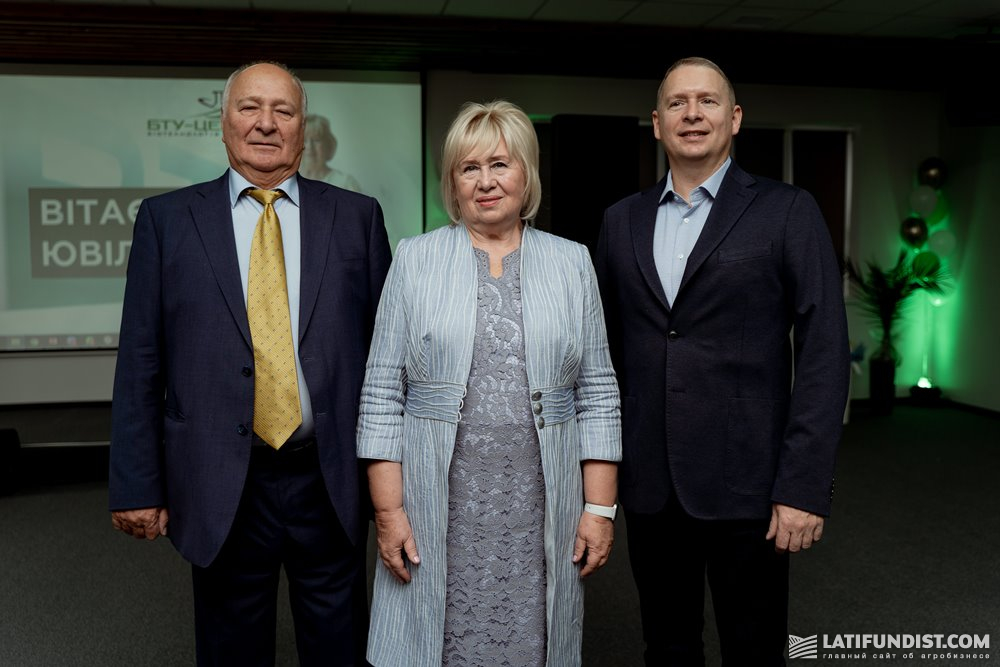 The heads of the BTU-CENTER company are Viktor Bolokhovskyi, Vladislav Bolokhovskyi and Valentyna Bolokhovska
"In fact, for me to sell my business is how to sell my child — I just can't wrap my mind around this. Now we have in our hands an incubator of technologies, a storehouse of experience and knowledge. It's priceless. Why sell something that you live for?"
In tandem with science
"Biotechnology as a science was developed in the Soviet Union. But over time, changes have also occurred in this area: biologization has begun to take a back seat, and chemization and the use of chemical fertilizers have prevailed (because of intensive technologies that arose in the field of the agricultural production).

Our business is closely connected with science. The company has gone through different stages from development of first-generation monopreparations to the production of the second-generation biocomplexes. This was followed by the creation of innovative products of the 3rd and 4th generations such as inoculants, mycorrhizal products and biofungicides.".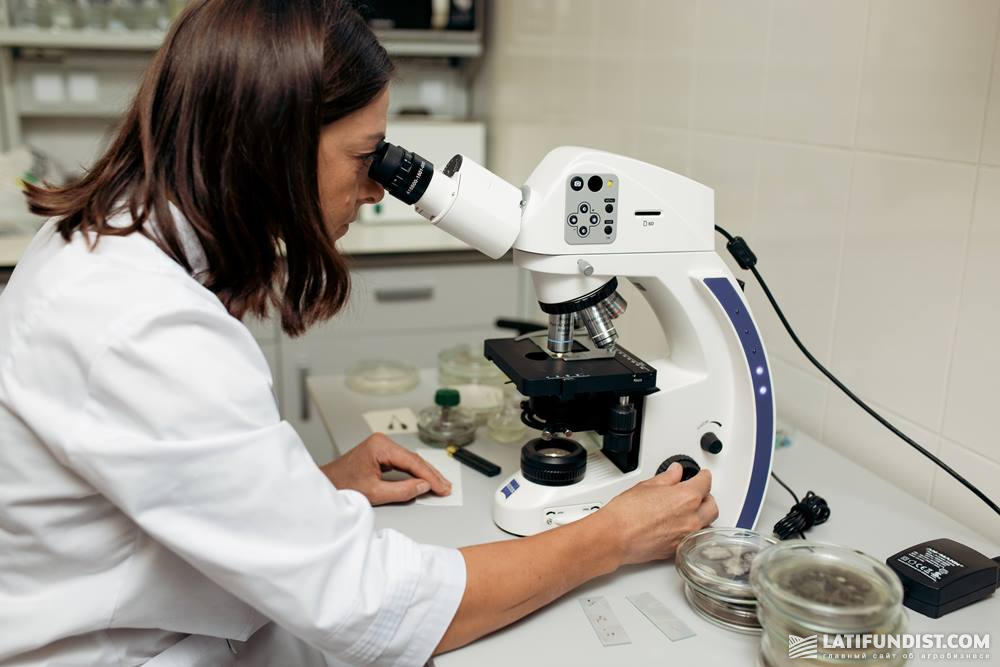 In the laboratory of BTU-CENTER
"Why did we create the Institute of Applied Biotechnology? Because we realized that people need expertise. After all, for different land plots and climatic conditions, you need different technologies that need to be professionally selected.

In general, intellectual potential is primarily an experience, and then — knowledge.".
Longest way round is the shortest way home.
"For my husband and me, one thing was always fundamental: if you take a debt, you have to give it on time. And if borrow, then only on the security of existing resources.

We always adhered to the rule: cut your coat according to your cloth. Every time we bought something new, we've never ever mortgaged everything. We'd better move slowly but surely.

There is always a risk in business. Especially when you develop a new product. You know that all the tests and experiences have been done, and there are still risks how the product will work in one or another conditions.".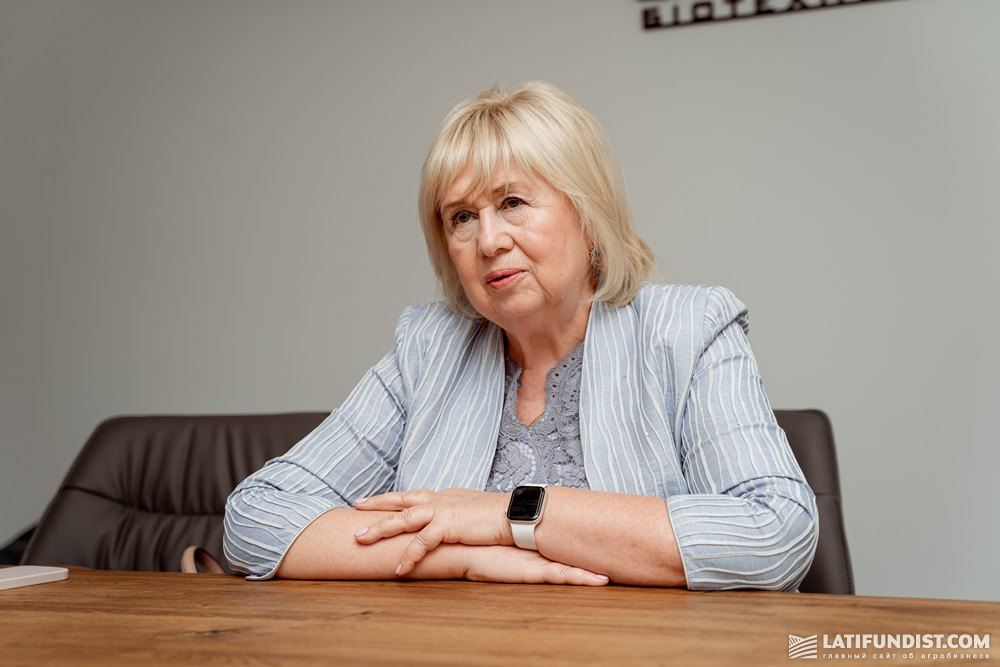 Valentyna Bolokhovska
Scale effect
"BTU-CENTER was able to scale both research and production of of biological preparations. To produce products with proven effectiveness and according to a given formula, i.e. products that work, is a significant contribution to the development of biotechnology.

The European Union finances 2/3 of the cost of developing biopreparations to its manufacturers. In our turn, we proceed from market demand. The needs of the market are a great motivation and driving force for the manufacturer.

We formulate our scientific tasks drawing from the fact that farmer needs to make a profit. And so that his technologies not only do not interfere with the environment, but also contribute to the restoration of soils, etc. And this is not an easy task. Because most people are used to follow the path of the least resistance. Nevertheless, the use of biologics in Ukraine is a growing field".
Development projects are inspiring
"I am proud of the many development projects of our team. The Ph.D. thesis, which I defended in 1993, was associated with the Liposam® (bioadhesive). In addition to the fact that it reliably strengthens the means of protection and nutrition of plants, it also increases their effectiveness.".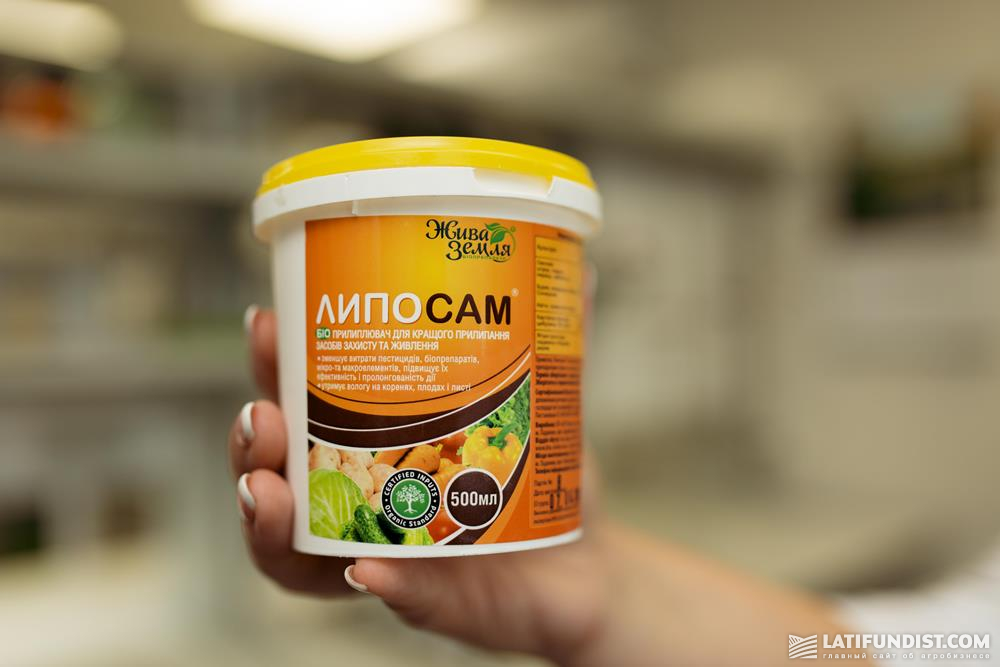 Liposam adhesive
"Perhaps we still have our polysaccharide glue Liposam® underestimated by our clients. It is very good for, for example, the protection of rapeseed from cracking.

When we developed Ecostern® (biological destructor), we saw that it works well for the decomposition of nutrient residues. Later it turned out that the biopreparation also has a huge effect on the inhibition of pathogens. Then we noticed that its use saves the cost of introduction of potassium and phosphorus.

When you discover more and more properties of biopreparations, when you see how the company checked the product on a small area, and then the orders were increased by 4 times — this, frankly, is inspiring. But we know how much work and experience it costs.".
Important support
"Innovative products need appropriate promotion. Biological preparations are not an ordinary product that can be put on the shelf and sold. They must be accompanied by trials, consultations, and recommendations. And no one can do it better than us".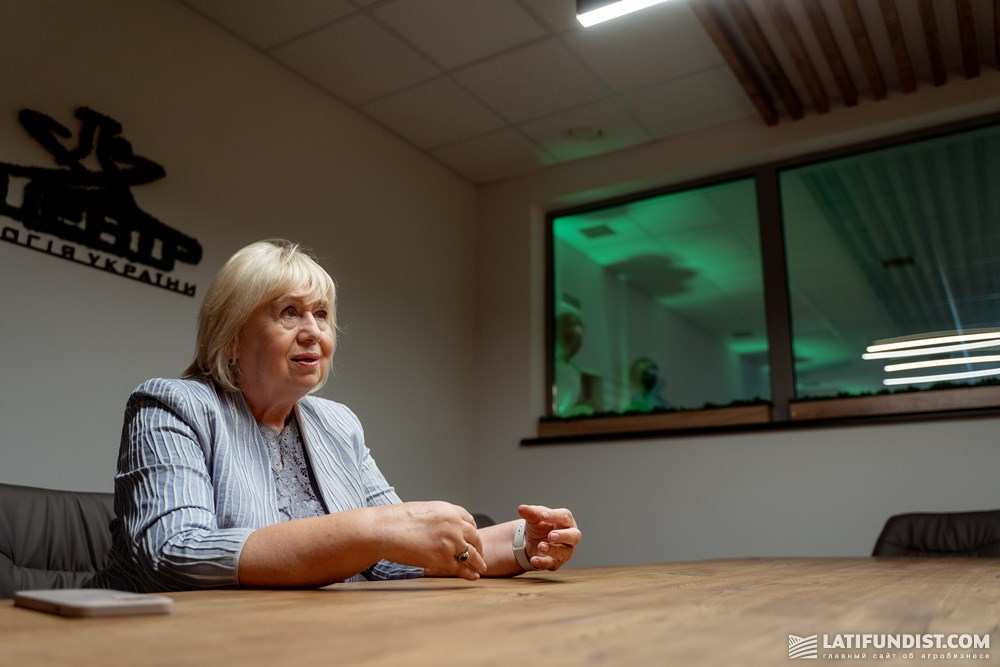 Valentyna Bolokhovska
"At first, we thought that we would produce biopreparations, and distributors would sell them. But experience has shown that the use of microbial preparations requires high-tech support, so without our participation, effective promotion is impossible. Out of 70 types of products, we sell 7-10 preparations through distributors".
Dreams materialize
"I am a scientist — not because it is honorable, not because I want to be respected. This was determined by my life. This is my purpose.

I believe that dreams materialize. At least that's how I do it. Perhaps because my husband is always here for me — a man who's turned many of our ideas into reality.

You should trust your intuition and experience. In scientific activities, it is very important not to get stuck, but also not to lose sight of insignificant facts.

I am happy with simple things: the sun outside the window, when all the company is working like a beehive, when there is an opportunity to draw while on vacation.

I don't like when employees and other people in my life echo every word of mine. Everyone should have their own opinion. I'm trying to keep well away from toxic people.

I value professionalism, responsibility and moral rectitude. I appreciate commitment: so that I don't remind the assistant what she should have reminded me of".
In the perspective we've scheduled construction of more than one plant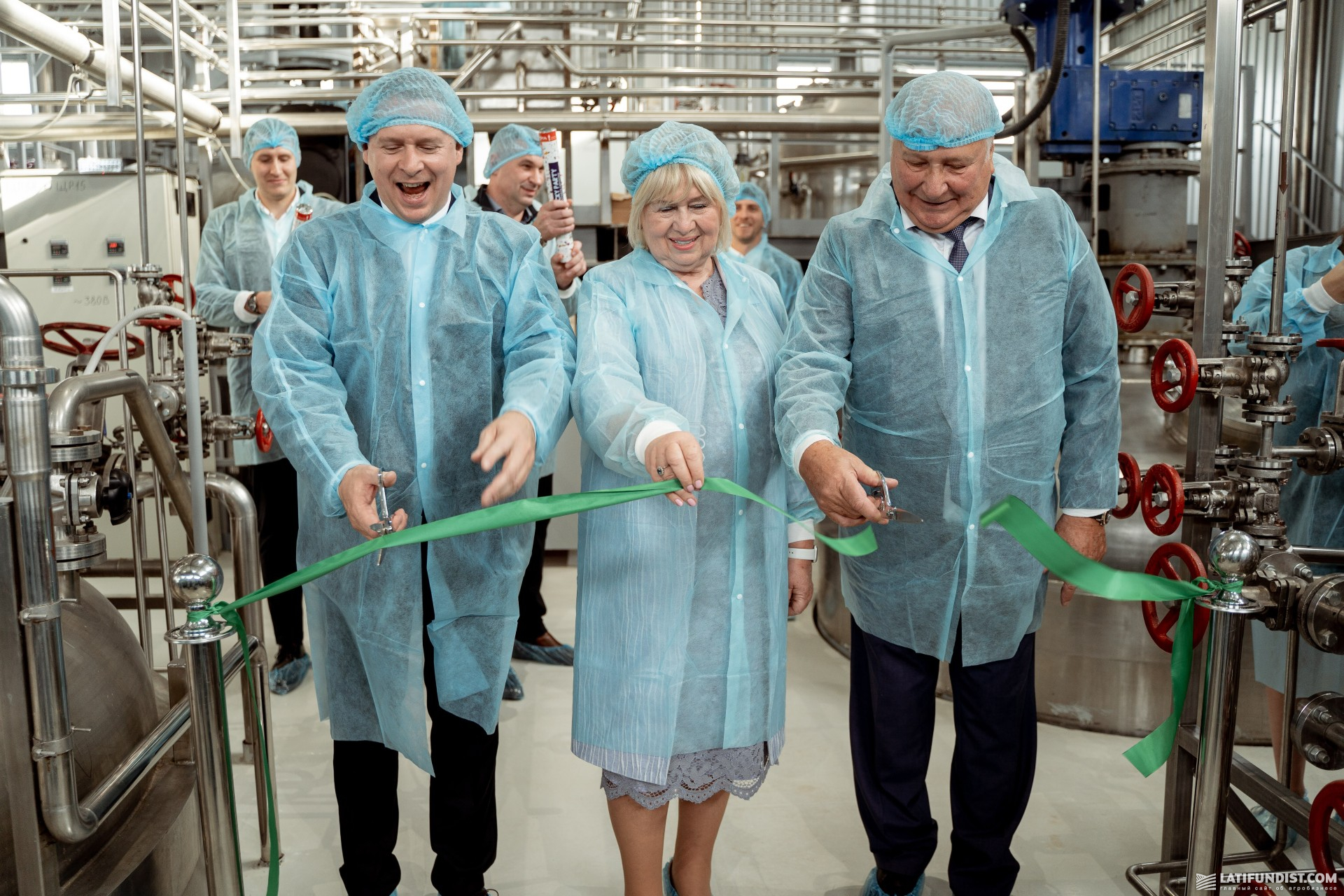 Launch of the 4th production line of the BTUCENTER plant
"I am proud of the dynamic history of our company. I am proud of the relationships that have developed with the team and my partners.

How do I see our company in 10-20 years? I see a large modern R&D center where many young people work. We have a strong expert group that provides consulting. Far more than one plant..."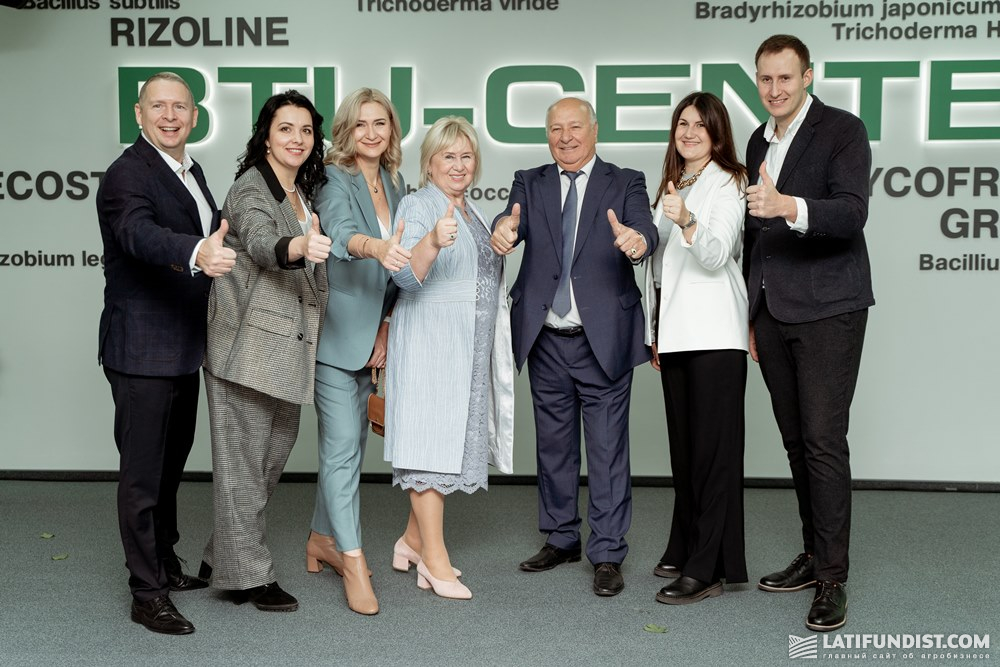 Launch of the 4th production line of the BTU-CENTER plant
"I see that we employ very interested people, because they have a decent salary, housing, travel opportunities, and in general they are happy".
Our partners